Exclusive Benefits for HPE Education Services
Microsoft Students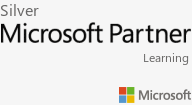 The learning doesn't stop after you leave class. Automatically gain unlimited access to these exclusive benefits when you take any qualified Microsoft course with HPE Education Services.
12 Months of On-Demand Access to Indexed Class Recordings of Your Virtual Class
Access class recordings within four hours of each session.
Access and search all class materials, including slides, notes and chats.
Catch up if you miss a session or want to review a key point.
12 Months of Anytime Access to Microsoft Practice Labs*
Hone your skills or prepare for certification exams with access to official Microsoft labs that enable you to practice what you learned in class.
Gain hands-on skills in a Microsoft "sandbox" environment.
Receive over-the-shoulder instructor guidance when you need additional help in class.
Take a break or easily handle an interruption with lab snapshots that enable you to save a lab and finish later.
12 Months of 24/7 Access to Mentoring via Chat, Email and Phone
Get help when you need it from our Microsoft subject matter experts available 24/7 for course assistance, answers to technical questions, live demonstrations, collaborative learning and more.
Access live Microsoft experts when you need them for personal attention and support.
Use remote screen-sharing to get an over-the-shoulder view of our expert's monitor for live demonstrations.
Get answers to complex questions through email or a phone call.
12 Months of Unlimited Retakes of Your Class*
If you didn't get it all during your class, don't worry: Practice makes perfect! Take your Microsoft class again.
Retake your Microsoft class in any delivery format.
Use your existing course materials and practice lab access.
Note: Retake seats are limited to space available.
Contact Us
Our experts can answer your questions on course schedules and arrange tailored content and delivery.