Vzdelávacie služby spoločnosti HPE pre DevOps
DevOps je prístup, ktorý zdôrazňuje rýchly, malý, iteračný rozvoj a zavádzanie aplikácií v záujme lepšej reakcie na potreby zákazníkov a ich uspokojovania. Charakterizuje ho kultúrny posun, pri ktorom Dev a Ops fungujú ako jeden tím zameraný na vytváranie obchodnej hodnoty. Centrom pozornosti je zjednodušenie v celom hodnotovom reťazci IT.

Vzdelávacie služby HPE vám prostredníctvom efektívneho školenia pomôžu rýchlo a efektívne vykročiť na cestu zavádzania prístupu DevOps.
Vyberte si z ponuky našich kurzov DevOps, ktoré patria medzi špičku na trhu.
Systém DevOps má mnohé výhody vrátane rýchlejšieho a úspešnejšieho zavádzania softvéru. Vzdelávacie služby HPE ponúkajú školenia, mentoring a vzdelávacie poradenstvo, ktoré poskytujú odborníkom v oblasti IT a vedeniu podnikov znalosti a zručnosti na optimalizáciu prostredia IT. Zručnosti, ktoré podporujú fungovanie rozvojových projektov naprieč organizáciami s využitím metodiky DevOps a pomáhajú dosiahnuť vyššiu úroveň efektívnosti, kvality a obchodnej hodnoty.

Na zobrazenie jednotlivých kurzov HPE vyberte tlačidlá so znamienkom "plus". Ak si chcete prečítať podrobnejšie informácie o jednotlivých kurzoch, vyberte názvy príslušných kurzov. Kliknutím na tlačidlo Zobraziť zobrazíte zoznam naplánovaných lekcií pre jednotlivé kurzy, miestne ceny a možnosti registrácie. Prostredníctvom možností Otvoriť všetky a Zatvoriť všetky môžete regulovať zobrazenie všetkých kurzov na stránke.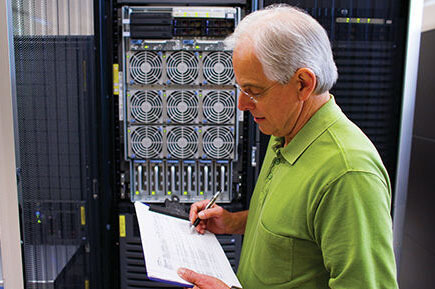 HPE Digital Learner™ Subscription (eligible vILT)
Kontaktujte nás
Naši odborníci vám zodpovedia otázky týkajúce sa termínov kurzov a pripravia pre vás obsah i spôsob poskytnutia šitý na mieru.
Zdroje pre vzdelávanie v oblasti správy údajových centier
ITIL® is a registered trade mark of AXELOS Limited, used under permission of AXELOS Limited. All rights reserved.