HPE DIGITAL LEARNER 7-DAY FREE TRIAL
Our anytime, anywhere learning-as-a-service solution offers the latest eLearning on HPE technologies, hot industry topics (security, cloud, AI), and more, with options for virtual instructor-led training (VILT). Try for free today!
VIDEO | 19:06
Invest in talent—HPE Digital Learner for anytime, anywhere learning
Watch this video detailing how to attract, retain, and develop talent with HPE Digital Learner, our learning-as-a-service solution that delivers continuous online learning to IT and business professionals. Access learning anytime, anywhere—as often as you need—during your subscription.
GET UNLIMITED ACCESS TO THOUSANDS OF ONLINE COURSES
HPE Digital Learner is a subscription-based online learning platform that provides 12 months of access to thousands of online courses. The subscription gives you unlimited access to our eLearning portal, where you'll find IT and business skills training, personal development courses, certification training, learning paths, digital badges, and more—all available anytime, anywhere and at your own pace.
Take advantage of the latest learning on:
HPE technology: servers, cloud, networking, storage, and more
IT industry trends like AI, blockchain, and virtual reality.
Personal development such as marketing, finance, and leadership
Plus, a Digital Learner subscription of any level gives you access to the qualifying courses for all Fast Start badges. With three levels to choose from, you can select the plan that best suits your needs.
Learn more about subscription plans below.
By 2025, 75% of the workforce will be Millennials
Why does this matter? Find the answer in our eBook.

Mouse over feature title for a description
Bronze
Silver
Gold
HPE technology training library
The HPE technology training library includes more than 300 hours of eLearning that covers HPE core technologies. Many of the courses include simulated or virtual hands-on labs for reinforced learning.
HPE Virtual Labs (vLabs)
Many of the HPE technology training courses feature HPE virtual labs (vLabs), which offer secure, remote access to state-of-the-art technology that enables hands-on practice for reinforced learning. With vLabs, HPE customers and partners can discover how to gain the most out of their technology investments in a safe and user-centric environment.
Learning paths
Learning paths provide a curated set of courses related to specific subject areas (networking, storage, data and analytics), ensuring that students receive a comprehensive learning experience.
Post-training learning checks
Once a course is completed, learners will be presented with learner boosts which are questions related to the course subject at random intervals. This method is designed to reinforce lessons and heighten memory retention of the learning over time.
Ask an instructor
During the subscription term, learners may submit questions to an HPE subject matter expert (via the discussion forums) while taking courses related to HPE technologies.
Social learning via the HPE digital community
HPE Digital Learner provides a gateway to the HPE digital community for access to forums and blogs by expert technologists and HPE thought leaders.
Digital badges
Digital badges recognize IT professionals for their talents, skills and training achievements. Earn HPE Fast Start, Specialist, and Administrator verifiable digital badges and share them with your professional network.
Certification training
Gain access to training for more than 65 industry certifications spanning the business, desktop, and IT industries. The subscription includes access to self-paced elearning courses, eBooks, videos, test prep, and subject matter expert (SME) mentoring access, depending upon the individual certification.
Expert series webinars
As part of select subscription services, learners have on-going access to HPE Expert Series recorded webinars for playback within the Digital Learner learning portal.
Attend up to three VILT courses
VILT training courses are live, scheduled classes led by experienced instructors and industry leaders in a virtual classroom. They include comprehensive course materials and provide an interactive learning experience Explore the Gold VILT course schedule to see what courses are available.
Office hours
Office hours are live, online scheduled sessions with an experienced HPE instructor focusing on HPE technology. The trainer serves as a coach to enhance the learning experience while providing a live session in which questions may be asked and answered.

Note: Enterprise options and pricing available for 10+ users, contact us for details.
MONTHLY FINANCING AVAILABLE
Boost the technology skills you need with the budget you have today. HPE Financial Services offers monthly financing for HPE Digital Learner.
*Available in the US only. Terms and conditions apply.
Explore the vast Digital Learner content library
The Digital Learner content library contains more than 5,000 hours of online training covering HPE technologies and hot topics across IT industry, business and leadership skills, and personal development.
As part of the online learning experience, also access thousands of digital book titles, audio books, and videos curated within channels and learn from renowned authors, thought leaders, and executives.
Whether working on skills needed for your job today or working toward industry certification prep, Digital Learner has relevant training for you.
Go Gold! Attend three VILT courses
As a part of the HPE Digital Learner Gold subscription or as an option with an enterprise subscription, you can attend up to three virtual instructor-led training (VILT) classes from the Gold VILT schedule.*
Taught by HPE experts, VILT classes provide a live, interactive learning experience that you can access anywhere. Some VILT classes also feature HPE virtual labs (vLabs), giving you secure, remote access to state-of-the-art HPE technology that enables hands-on practice with lessons learned in class.
*Note: The Gold VILT Schedule is a curated subset of classes from the complete Global ILT and VILT Course Schedule.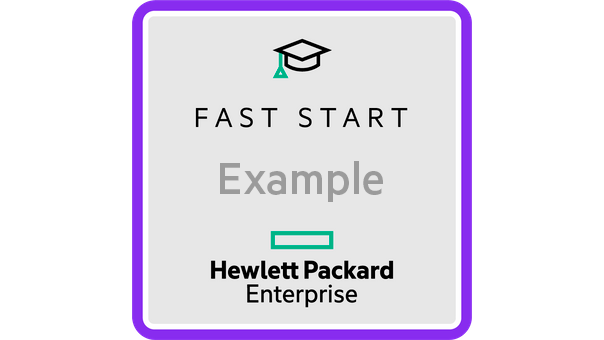 Earn any Fast Start badge with an HPE Digital Learner subscription
You'll have access to all of the required coursework for any Fast Start digital badge with your HPE Digital Learner subscription.
Contact Us
Our experts can answer your questions on course schedules and arrange tailored content and delivery.