Vzdělávací služby HPE pro DevOps
DevOps je přístup, který zdůrazňuje rychlý, v menších krocích probíhající iterativní vývoj a zavádění aplikací umožňující lépe reagovat na a splňovat potřeby zákazníků. Je pro něj charakteristický kulturní posun, kdy se funkce Dev (vývoj) a Ops (provoz) jako jeden tým soustředí na zajišťování obchodní hodnoty. Důraz je na zefektivnění hodnotového řetězce IT.

Vzdělávací služby HPE vám mohou díky účinnému školení pomoct s rychlým a účinným startem při zavádění DevOps.
Vyberte si z naší nabídky kurzů na téma DevOps, která patří k tomu nejlepšímu na trhu
Přístup DevOps má mnoho výhod, včetně rychlejšího a úspěšnějšího zavádění softwaru. Vzdělávací služby HPE nabízejí školení, mentorování a poradenství v oblasti vzdělávání, které vybaví IT profesionály a vedoucí pracovníky znalostmi a dovednostmi potřebnými pro optimalizování vašeho IT prostředí. Dovednostmi, které v celé organizaci podporují vaše projekty v oblasti vývoje s použitím metodiky DevOps a přinášejí vyšší efektivitu, kvalitu a obchodní hodnotu.

Pro zobrazení jednotlivých kurzů HPE klikněte níže na tlačítka se znaménkem "plus". Po kliknutí na název kurzu se můžete seznámit s bližšími informacemi o jednotlivých kurzech. Po kliknutí na "Zobrazit" se objeví termíny výuky jednotlivých kurzů, ceny pro danou lokalitu a možnost registrace. Pomocí "Otevřít vše" a "Zavřít vše" můžete ovládat zobrazení všech kurzů na stránce.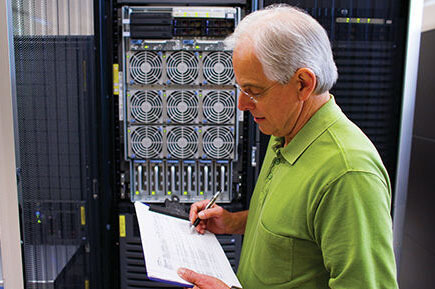 Kontaktujte nás
Naši odborníci odpovědí na vaše dotazy o termínech kurzů a upraví obsah a dodání kurzu podle vašich potřeb.
Zdroje vzdělávání na téma datová centra
ITIL® is a registered trade mark of AXELOS Limited, used under permission of AXELOS Limited. All rights reserved.